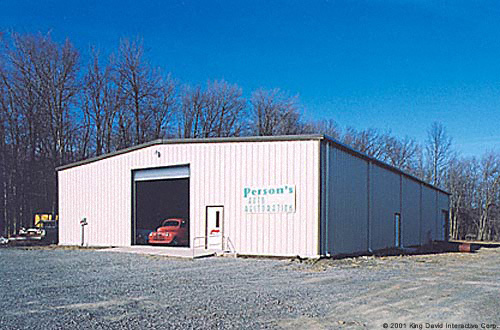 Why Steel Buildings Are Perfect For Your Home Gym
With keeping in shape, sometimes it's hard to commit to a gym if there isn't one close by. This leads many people to work out at home instead of travelling elsewhere. Depending on the size of your home, you may or may not have the extra space to accommodate for a home gym. For homes without extra room or a basement that's already being used for something else, you can always create a home gym as an additional structure on your home's property. With more traditional building methods, this can quickly become expensive and time-consuming which would lead many people to simply give up.
Because this addition is all about convenience, steel buildings offer a quick and easy solution without compromising durability or quality. Prefab steel buildings are a much more economical choice that will save you time as well as money on construction costs. It's simple prefabrication design is engineered to easily come together without the requirement of special tools or specifically skilled labourers. This saves you money because you're able to complete the construction yourself or hire general contractors to complete the job. Because of the ease of construction, the process will take much less time than other types of building, meaning you'll require any hired labourers for less time also – again saving you money in the process.
Weatherproof
Steel buildings are largely resistant to outside weather conditions thanks to their high durability. This cuts down on the possibility of leakage and other damages. As a space where physical activity takes place, water, ice or other types of debris getting into the structure and on the floor is a safety hazard. Steel buildings helps to alleviate much of that pressure. If you plan on allowing others to use your gym also, it will be imperative to have these safety issues under control.
Large Interior
With widths up to 200 feet and unlimited lengths, the possibilities are endless for the setup of your gym. You can accommodate various area for strength training, stretching, cardio and a large enough space for indoor running. This is especially important in times of bad weather for runners who want to still get their daily job or run accomplished without being restricted to a treadmill. With column-free interiors, there's nothing obstructing the inside of the structure, giving you the freedom and flexibility to place equipment, mats, scales and whatever else you need in your home gym, as well as customizing the interior to include a shower, sauna and more with the help of contractors and plumbers.
Easier Cooling
In a room where vigorous physical activity will regularly take place, it will be important to have cooling ducts to not only regulate the temperature in the gym, but save money on the cost of cooling and use that energy in a more efficient manner.
With steel buildings, it's possible to have the home gym you've always wanted at a fraction of the cost and in a fraction of the building time. For more information on our steel buildings, call us at 1-888-449-7756
---