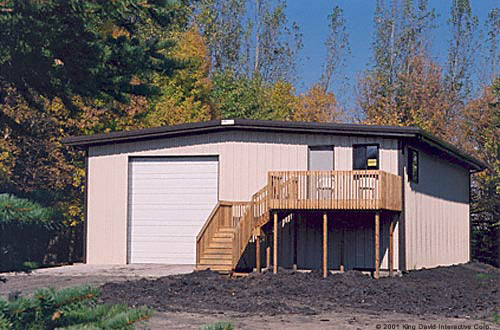 Why Steel Buildings Are Perfect For Garages
Our prefab steel buildings are versatile enough to be used for a variety of structures, but one of their best uses is creating the work or storage garage you've always wanted. As an economical choice, it's the perfect alternative for constructing a garage or shed. It's imperative that you carefully plan the location of your garage to make sure that it makes sense for you. You may have extra room on your own property to add it close to your existing home or other properties, which is ideal for most. Steel buildings are flexible enough to be placed anywhere as long as there's a solid foundation. Take into consideration how you plan on using the garage, as this will help you determine what size you need to accommodate these needs. Olympia's metal garage kits are capable of widths up to 200 feet and unlimited lengths, giving you more than enough room to store your cars, trucks, boats, RVs and trailers.  They're also engineered to not need any load-bearing middle columns, meaning there are not interior obstructions that will compromise the way you use your space inside. Materials like wood require middle support in order to remain durable as well as accommodate larger sizes, but with steel buildings this isn't the case.
Unlike concrete, steel work does not shrink or otherwise distort during the time the building is up. Other more conventional methods like brick, stone and wood are not only more expensive but more time consuming, with steel prefab taking nearly 30% less time to erect a building when comparing it to conventional concrete structures. This is largely due to the ease of construction. Steel buildings also produce much less waste after being completed, with little to no left over materials since each part of the structure is specifically designed and engineered to fit your requested requirements.  Not only does this waste ass to construction costs, they put extra strain on the environment. Steel materials are 100% recyclable so even in the event that the structure is no longer required, the steel is able to be reused in another way without compromising the properties of the material. Steel never loses its strength and durability not matter how many times it is reused for other purposes. Steel is fire and pest resistant in addition to being well protected from extreme weather conditions, meaning whatever you have stored inside will largely be protected from a range of elements.
No matter what you use your garage for, using an Olympia prefab steel building is the best choice you can make.
---